Driving in Taiwan can be a frustrating experience, especially if you're not familiar with the language. But even for those who are fluent in the language (myself included), there are times when logic-defying sign placements can lead to involuntary spewing of foul language.
My personal experience with Taiwanese road signs (of lack thereof) as a driver leads me to the conclusion that road planners here uses these rules to decide where to place their signs:
Place directional signs to a place in one direction, but not the opposite direction. (one must drive past without seeing any sign, make a U-turn, then see sign on other side of road)

Place signs to denote distance to an exit at great distances (e.g. 5km, 3km, 2km, 1km), then don't put any at the exact place to make the turning. (assume the driver is either local or has strong sixth sense)
Use different English spellings for the same place, prefably on the same road. (e.g. Ilan, Yilan, Yihlan)
Place English signs at random, for decorative purposes only. (since the locals can read Chinese, right?)

Take this example by
RichyLi
: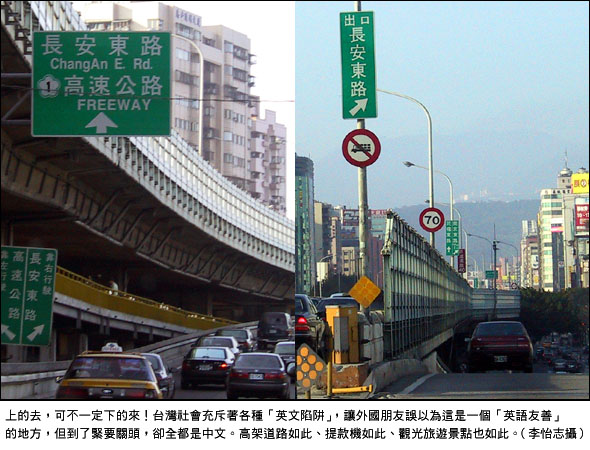 The left picture shows the entry to the viaduct displaying the words "ChangAn E. Rd.", but the exit (right picture) only has the Chinese characters (長安東路), no English! Chia lart siarl~
English signs an obstacle to foreign businesses



The Taiwan government has recently been trumpeting the slogan of globalisation and strengthening English language education, and hopes to "double tourist arrivals" by 2008. But according to foreigners here, too few and incoherent English signs are currently the main obstacle facing foreigners in Taiwan, and should be given more attention.

Mr. Gao, an American engineer who works in the Hsinchu Science Industrial Park, remarked that if Taiwan wants to globalize and attract more business travellers, more effort must be made to improve English signs across the island. He feels that English signs are still not widespread enough, and "pose a significant barrier to for non-Chinese speaking foreigners who wish to do independent travel or set up a business in Taiwan".

In addition, the translation systems used by different places produce inconsistent English location names, which Mr. Gao thinks is a big test to foreigners. "The Taiwanese may think that a difference of one or two letters doesn't make much difference, but to a foreigner, he might think that these are two different places." He hopes that the spelling for location names can be standardized, so that different spellings for the same place doesn't appear on the same road.

ASWJ Editor Mr. Wood thinks that as a native English speaker, requiring every country on Earth to use English might be a bit arrogant, and travelling in a place where English is not spoken can add a certain "feeling of adventure". But if Taiwan wants to develop its tourist industry and double the number of tourists, "we need more English on bus stop signs, road signs and menus", which would undoubtedly be of a great help to foreign tourists.